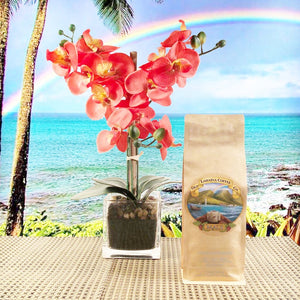 Our Hana Happiness Blend features a unique mix of Arabica beans to yield a rich-tasting, low-acid coffee.
The Hana Happiness Blend is finished as 70% city-medium / 30% French roast, the beans have a wonderful rich hue and smooth taste.
It's our favorite afternoon pick-me-up coffee, and we hope you'll enjoy it as much as we do.
Our coffee bags are recyclable, and the foil lining with degassing value and resealable ziplock closure maximizes freshness.
Let us send a bit of paradise your way! Aloha always...