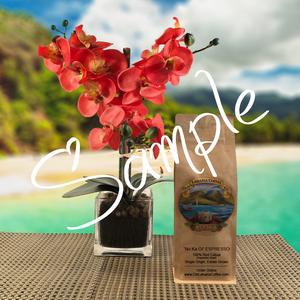 A TOP-SCORING, FINALIST COFFEE BEAN IN THE HAWAII ANNUAL COFFEE CUPPING COMPETITION.

You shouldn't leave Maui without tasting our espresso.
It's what we're most proud of serving at the Cafe, and visitors from around the globe-- including many famous and proud, coffee-culture cities-- consistently rave about our espresso shots and espresso-based drinks, especially our thick cremas.
Our Espresso is a custom blend of light and dark roasts of 100% Maui Red Catuai coffee bean designed to provide a really rich, sustained flavor with very, low acidity. The beans are roasted to shine, shine, shine. 
When finished for espresso, the Maui Red Catuai coffee bean offers a wonderfully warm, nutty aroma, with hints of both spice and butteriness in the cup. The flavor profile finishes with rich cacao.
It's also an amazing, very dark roast coffee.
Our coffee bags are recyclable, and the foil lining with degassing value and resealable ziplock closure maximize freshness to you. We roast every Monday and Thursday, so we ship every Tuesday and Friday.
Let us send a bit of paradise your way! Aloha always :)
Note - Sample packs will yield 2 to 4 cups of coffee depending on size and strength.